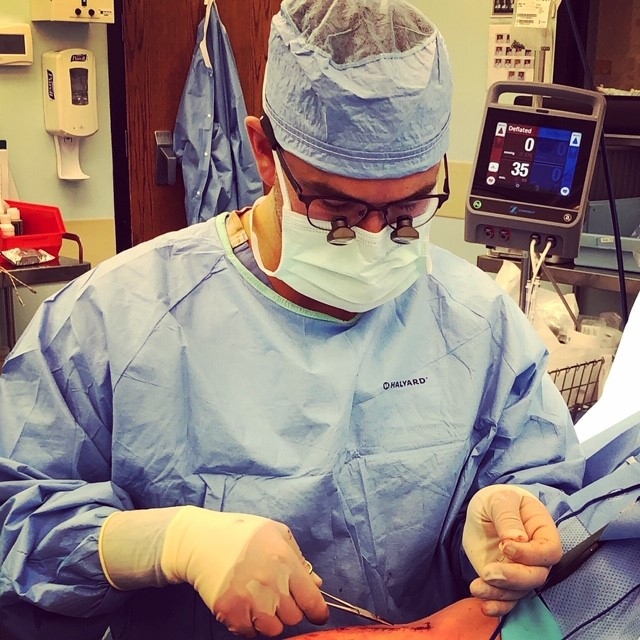 The Sparrow/MSU General Surgery Residency Program participates in the National Residency Match Program (NRMP) and Secondary Offer and Acceptance Program (SOAP).  Further, we accept applications from US allopathic and osteopathic medical schools for first year positions through the Electronic Residency Application System (ERAS) only.  IMG applicants are also considered.  We offer 5 categorical positions and one preliminary position.  Our program code is 1315440C0 for the Categorical positions (5) and 1315440P0 for the preliminary position.  A holistic review of the individual's application takes place with special attention paid to the applicant's strong desire to pursue general surgery or one of its sub-specialties, high performance in surgical clerkships and sub-internships, research activity, and humanitarian volunteerism.  USMLE and COMLEX scores are accepted.  One must pass USMLE Step 1, and a USMLE Step 2 score above 235 is strongly encouraged.  COMLEX Level 1 and Level 2 scores above 540 are strongly encouraged for those taking these examinations. Three letters of recommendation are required and are typically from surgical faculty and department chairs.  Please contact us for further information.   
Program review of Applications
Requirements
ERAS application
Curriculum vitae
Personal statement
Three letters of recommendation-all preferably from a surgical discipline
USMLE Step I and II and/or COMLEX Level 1 and Level 2
Surgery department chair letter
Medical school transcript
ECFMG certificate (foreign medical graduates only)
Criteria for selection of Residents
Interviews are offered to the top candidates based on evaluation of all the application materials.  Medical school transcript, research experience, hunaitarian volunteerism, extracurricular activities, personal statement, letters of recommendation, and educational accomplishments are all taken into account. Important intangibles that are fundamental to selection include evidence of strong desire to be a surgeon, leadership, exceptional work ethic, professionalism, and enthusiasm.
Interviews
Interviews are an important, required component of the application process and are by invitation only.  Hundreds of applications are received annually, and, therefore, screened and thoroughly reviewed based on selection criteria.  If you have a special interest in our program and did not receive an invitation, please communicate with us specifying your reasons.  Invitations for interviews will likely be sent out no later than November 1, 2022.  The candidate will have 48 hours to respond to the invitation.  Invitations, along with the available dates, are sent to the selected applicants through the ERAS system.  If a conflict arises, please notify us as soon as possible so that an alternate date can potentially be arranged for you, and your opening can be offered to another candidate.  After evaluation of our program's interview process-including surveys from past interviewees, interviews this year will be in person.  This will give the applicant an opportunity to interact with the residents in a more informal and natural atmosphere at the dinner the night prior to the interview.  Further, the applicant will gain a better idea of Mid Michigan including Lansing, East Lansing, and Flint.  Interviews are held on several dates in November and December.  During the interview process, you will meet and converse with the residents, several faculty members, and program leadership.  Communication skills, interpersonal skills, preparedness for the interview, interest in our residency program, and commitment to general surgery are specifically evaluated during this time.  Our rank order meeting with the participating residents and faculty is typically held in early February.
Foreign Medical Graduates
For graduates of medical schools outside the United States and Canada, the necessary qualifications are the following:
J1 Visas only are sponsored
Current valid certificate from the Educational Commission for Foreign Medical Graduates (ECFMG).
No more than 2 years since graduation from medical school
At least 1 year of US clinical experience.