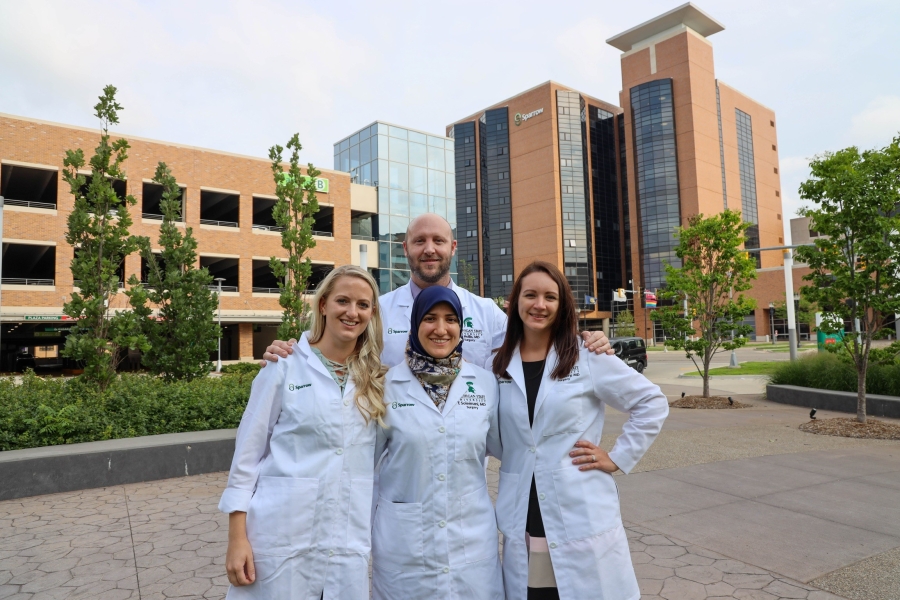 Where do they go next?
Our graduates take on a variety of different challenges when they become new surgeons.  They pursue many different sub-specialty fellowships or transition into practice.  Providing care to a whole host of different "communities," our graduates can be found throughout the USA and beyond.
Our Resident Class of 2022
Congratulations to Crystal Drayer, MD (General Surgery at UnityPoint), Michael Hollis, MD (General Surgery at MyMichigan Health), Marta Lavery, MD (Minimally Invasive Fellowship for Colorectal at Swedish Medical Center), and Tahereh Soleimani, MD (Breast Surgical Oncology Fellowship at Johns Hopkins).  Your hard work and dedication have paid off.  We are all proud of your accomplishments and look forward to the amazing things you will do in the future!
Please be sure to hear from our graduating Chief Residents by clicking on their name!
Class of 2022
Dr. Crystal Drayer: General Surgery at UnityPoint Sioux City, IA 
Dr. Michael Hollis: General Surgery at MyMichigan Health West Branch, MI
Dr. Marta Lavery: Minimally Invasive Fellowship-Colorectal at Swedish Medical Center, Seattle, WA
Dr. Tahereh Soleimani: Breast Surgical Oncology Fellowship at Johns Hopkins University, Baltimore, MD 
Class of 2021
Dr. Melissa Keller: Vascular Surgery Fellowship at University of Texas Southwestern Medical Center, Dallas, TX
Dr. Thomas Murickan: Transplant Surgery Fellowship at the University of Nebraska Medical Center, Omaha, NE
Dr. James Raccuia: General Surgery at Blanchard Valley Health System, Findlay, OH
Dr. Matthew Rausch Rausch: General Surgery at Spectrum Health, Big Rapids, MI
Class of 2020
Dr. Ian Behr: Head and Neck Fellowship at Massachusetts Eye and Ear Institute, Boston, MA
Dr. Danielle Dougherty: Pediatric Critical Care Fellowship at the University of Michigan, Ann Arbor, MI; Pediatric Surgery Fellowship, University of Connecticut, Hartford, CT
Dr. Laura Ochoa-Frongia: Trauma/Critical Care Fellowship at Sparrow/MSU, Lansing, MI
Dr. Chibueze Onkyemkpa: Cardiothoracic Surgery Fellowship at Texas Heart Institute, Houston, TX
Class of 2019
Dr. Kun-Tai Hsu: Plastic Surgery Fellowship, Temple University, Philadelphia, PA
Dr. Cody Nebeker: Minimally Invasive Surgery Fellowship, McLaren Flint, Flint, MI
Dr. Lewis Rashid: SMG General Surgery in Lansing, MI
Class of 2018
Dr. Adam Basler: Private practice in Rochester, NY
Dr. Andi Peshkepijia: Vascular Surgery Fellowship at Indiana University Medical Center, Indianapolis, IN
Dr. Shai Mansoor: Colorectal Surgery Fellowship, University of Miami, Miami, FL